EPIC was recognized alongside the DOWL team for excellence in the Astoria Waterfront Bridge Replacements project in Astoria, Oregon. The project received the Best in Category Award in the Transportation Category at the 2021 Engineering Excellence Awards, presented annually by the Oregon chapter of the American Council of Engineering Companies (ACEC Oregon) on January 28, 2021.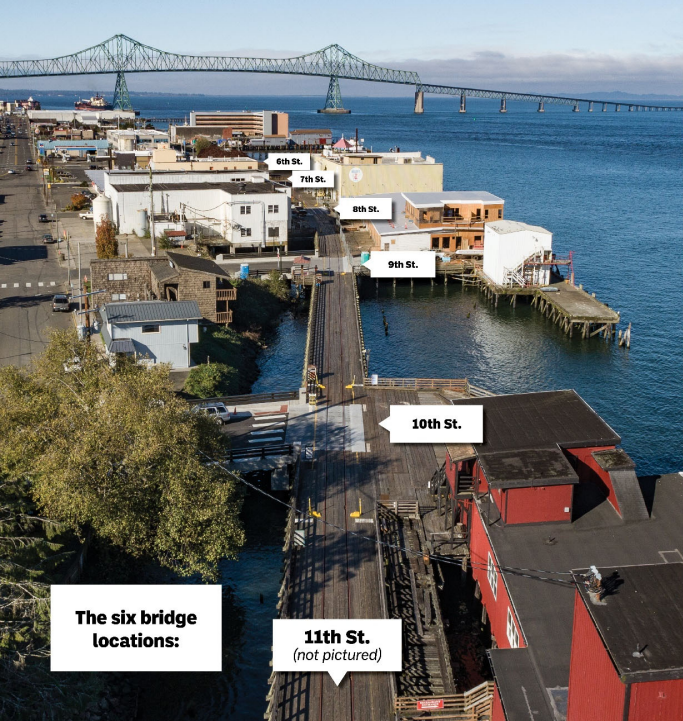 The Astoria Waterfront Bridge Replacements was a complex project and modern feat of engineering to maintain pedestrian, vehicular, and emergency access to many businesses and attractions in Astoria's waterfront commercial district. The project involved 200 years of historic waterfront structures, the replacement of six bridges spanning the Columbia River shoreline, two accelerated construction seasons, and coordination with several public agencies. The City of Astoria obtained funding from the Oregon Department of Transportation through the Local Highway Bridge Program to replace the six waterfront bridges. Odd-numbered streets (7th St, 9th St and 11th St) were reconstructed in the first phase, and even-numbered streets (6th St, 8th St and 10th St) were reconstructed in the second phase that is scheduled through August 2020.
EPIC's was the sole-source provider of right of way services in this project, including real estate appraisal and acquisition of rights from 11 commercial properties. Due to the complexity of in-water construction, the construction schedule demands alternating bridges over the course of three years. The lengthy project schedule made the acquisition process complex, as did the fact that many of the property owners have private development plans that coincide with the project schedule.
ACEC Oregon is a member organization of the American Council of Engineering Companies (ACEC) in Washington, D.C. The Engineering Excellence Awards recognize the best engineering projects in our region, so it is an immense honor to be selected among a distinguished roster of projects big and small across all sections of the architecture and engineering fields.